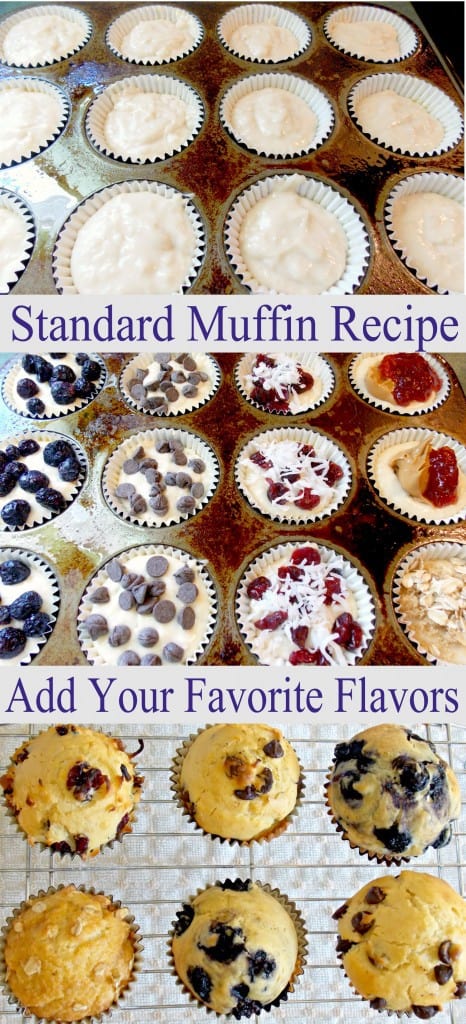 About a year ago, I noticed several recipes trending on Pinterest involving pancake batter and muffin tins.  Some people called them puffins, some people called them individual baked pancakes.  The general idea was to take pancake batter and pour it into a muffin tin, then top the batter with your favorite flavors (fruits, nuts, chocolate chips, oats, etc.) and bake it.  I thought it was a great idea, so I tried it.  Unfortunately, I didn't really like it.  The thing about pancake batter is, it's not very good on its own.  That's probably why most people douse their pancakes in lots of maple syrup.  Even when I added syrup to the baked pancakes, or whatever you want to call them, they still weren't my favorite.
But, I still really liked the idea of being able to use a bunch of different flavors/toppings to add to one standard batter.  The batter just needed to taste better.  So why not use the muffin tin for it's actual purpose, making muffins!  Muffin batter is lighter and sweeter; and you can still add all of your favorite additional ingredients to it.
This is great for house guests, kids, and picky eaters because everyone can choose their favorite flavor of muffin to make.  It's also a great way to get creative in the kitchen.  I tried a lot of different flavor combinations and some of the ones that sounded a little strange ended up being great, like dried cranberry and sweetened coconut.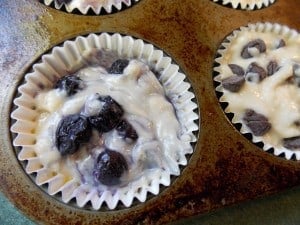 All you do is follow the standard muffin recipe below, fill a muffin tin with the batter, and top with your favorite muffin flavors/additions.  Use a toothpick to push the additional ingredients down into the batter and swirl them around a bit.  This way the additional ingredients are spread throughout the muffin and don't just sit on top of it, as you can see in the blueberry muffin pictured on the right.  Then, just bake and cool the muffins like any other muffin recipe.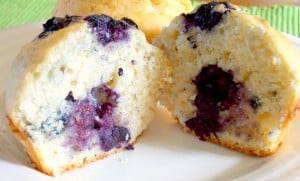 The amount of additional ingredients you add is up to you, if you like lots of chocolate chips in your muffins, then add lots of chocolate chips.  I ended up using about a tablespoon of each additional ingredient.
I experimented with lots of different flavor additions for this standard muffin recipe.  Here are a few that I tried:  blueberry (pictured on the right), banana nut, chocolate chip, dried cranberry & sweetened coconut, mango & sweetened coconut, Peanut butter & jelly, and brown sugar & oats.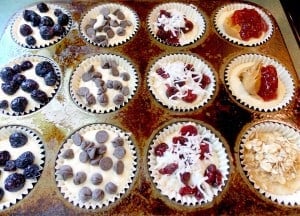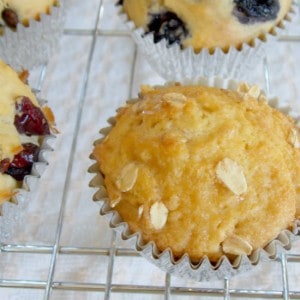 This brown sugar and oats muffin was another one of my favorites.  The brown sugar addition really sweetened it up.
I do have a suggestion for your flavor additions.  If you are adding an ingredient that is not very sweet, like blueberries, you may want to roll that ingredient around in a little sugar before you add it to the batter.
Standard Muffin Recipe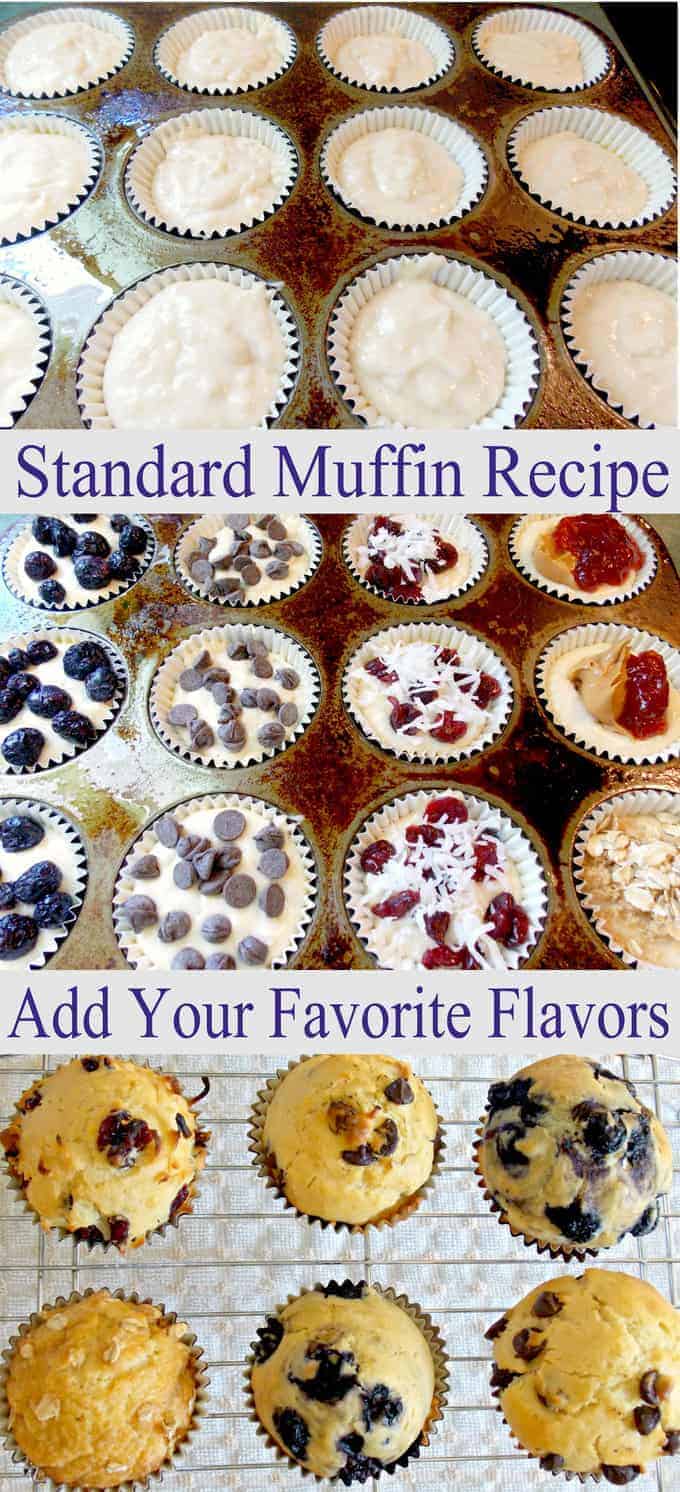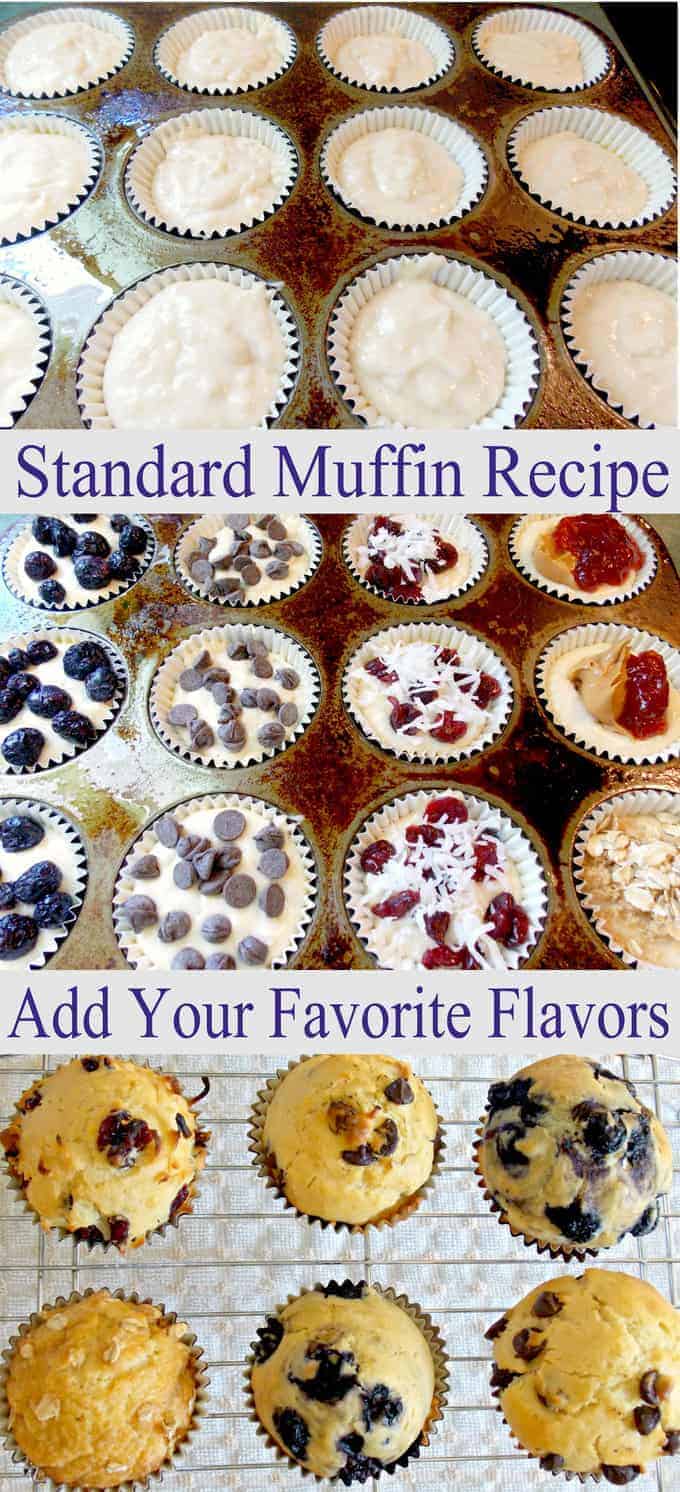 Ingredients
2

cups all-purpose flour

1

tbsp. baking powder

1/2

tsp. salt

1/2

cup granulated sugar

1

cup skim milk (or whatever milk you have)

1

tsp. vanilla extract

1

large egg

1/4

cup canola or vegetable oil

cooking spray
Instructions
Preheat oven to 400 degrees. Place muffin liners in a muffin tin and spray with cooking spray.
In a large bowl, add the flour, baking powder, and salt. Stir to combine.
In another bowl, add the sugar, milk, vanilla, egg, and oil. Whisk to combine.
Add the wet ingredients to the dry ingredients. Stir until just combined; batter should be lumpy. Do not over mix.
Fill the muffin liners ¾ of the way up.
Add your favorite muffin flavors/additions (fruit, nuts, chocolate chips, oats, etc.). Take a toothpick and push the additional ingredients down into the batter and swirl them around a little.
Bake for 20 minutes. Let cool for 5 minutes before serving.
Nutrition Facts
Serving Size
1 plain muffin
Amount Per Serving
As Served
Calories

152

Calories from fat
% Daily Value
Total Fat

4.9

8%
Saturated Fat

0.5

3%
Carbohydrate

23.7

8%
Dietary Fiber

0.5

2%
Protein

3.1
Percent Daily Values are based on a 2,000 calorie diet. Your daily values may be higher or lower depending on your calorie needs:
Calories
2000
Total Fat
Less than
65g
Sat Fat
Less than
25g
Cholesterol
Less than
300mg
Sodium
Less than
2,400mg
Total Carbohydrate
300g
Dietary Fiber
25g