These French Toast Cups with Your Favorite Toppings make an easy, customizable breakfast.  Cubed bread is soaked in a sweetened, flavorful custard; topped with your favorite optional toppings; and baked in a muffin tin.  The maple syrup is baked right in!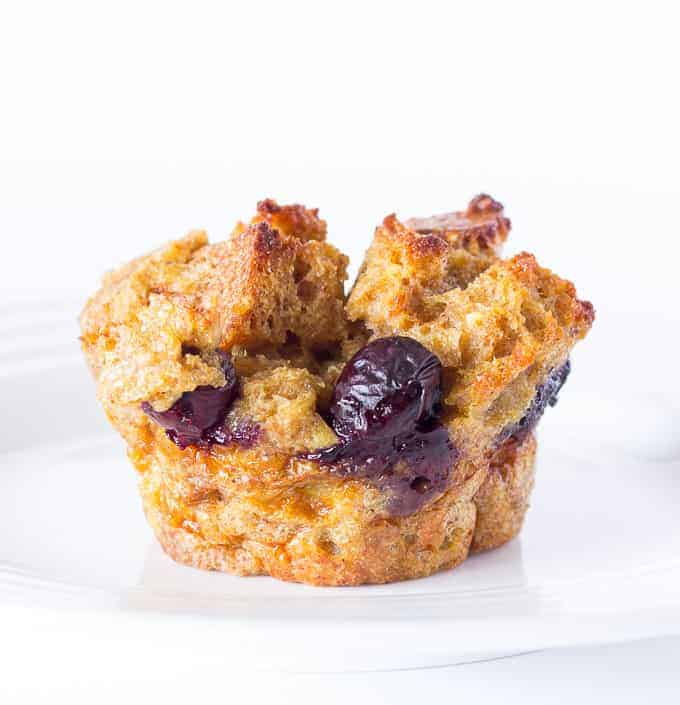 It's time to bust out the muffin tin for another fun customizable breakfast recipe!
Two of my most popular recipes are To Go Baked Oatmeal with Your Favorite Toppings and my Standard Muffin Recipe.  Both of these recipes have a base recipe (basic baked oatmeal and basic muffins) that are baked in a muffin tin and can be topped with just about any flavor you want.  People really seem to like the idea of customizing flavors.  Everybody gets exactly what they want, which can be great for picky eaters.
I decided to try this concept with French toast and came up with this recipe for French toast cups with your favorite toppings.  It's a baked French toast recipe that gets made in a muffin tin.  Cinnamon, vanilla, and maple syrup are baked right in to the muffins.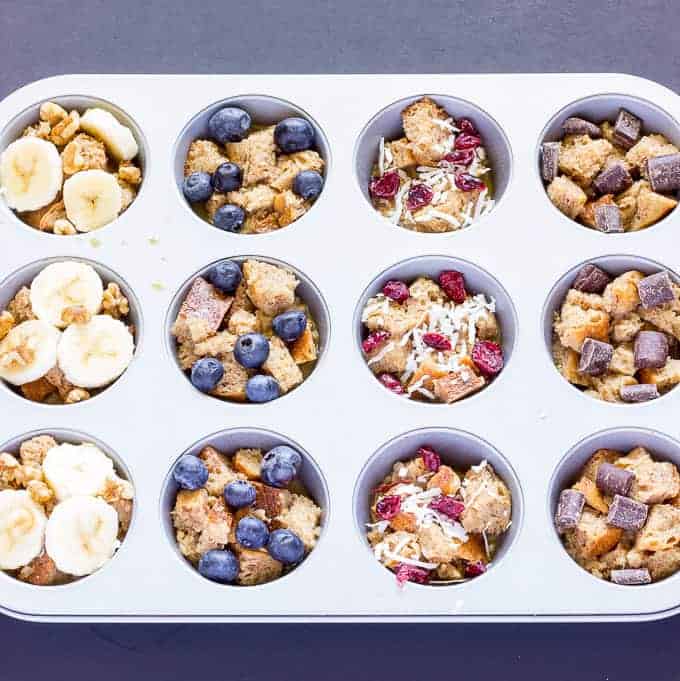 To make this easy French toast recipe, start by making the flavorful custard.  Mix eggs with milk, maple syrup, brown sugar, cinnamon, and vanilla.  Chop some good quality, crusty bread into small cubes.  Soak the bread in the custard.  Then, fill the muffin tin with the bread and custard.
At this point you can add any flavors you like.  The French toast muffins I made were banana nut, blueberry, cranberry coconut, and chocolate chunk.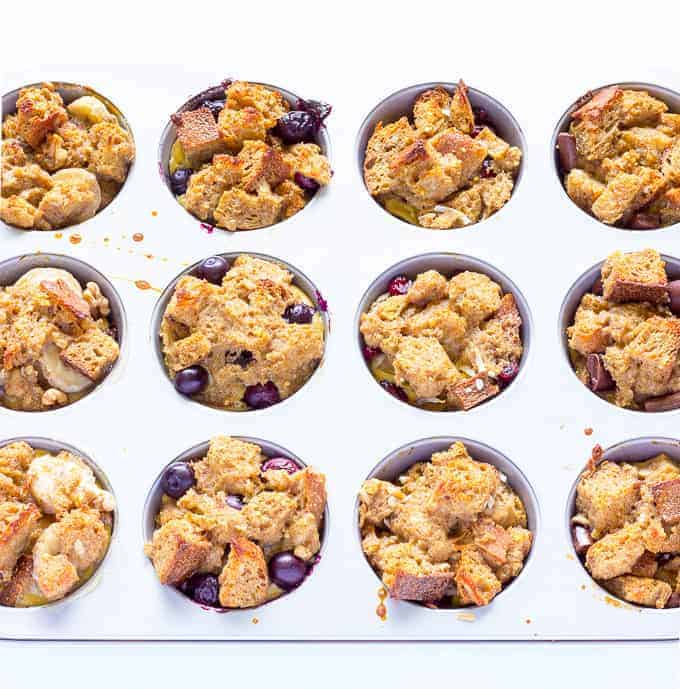 Add a little bit more of the bread mixture on top of the toppings to anchor the toppings to the muffins.  Bake until they start to turn golden brown on the edges.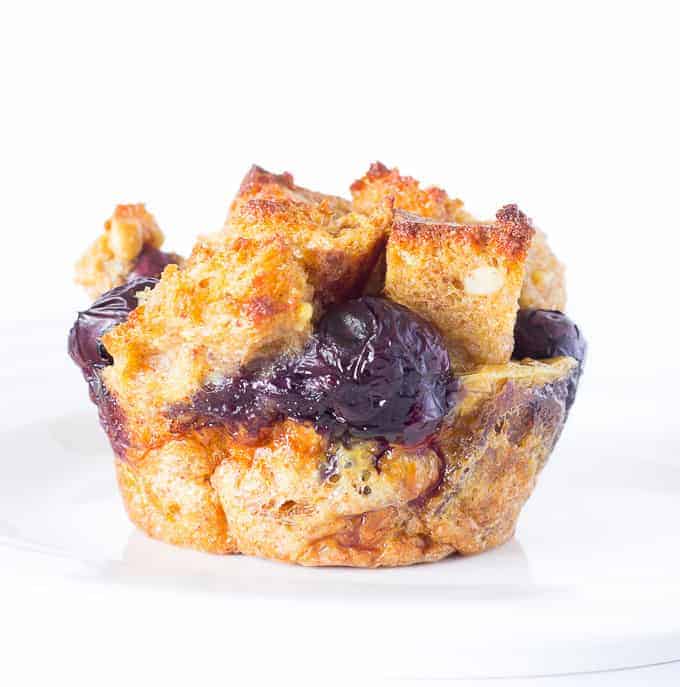 If you wanted, you could fill the muffin tin the night before baking.  Just be sure to cover it with plastic wrap and store in the refrigerator.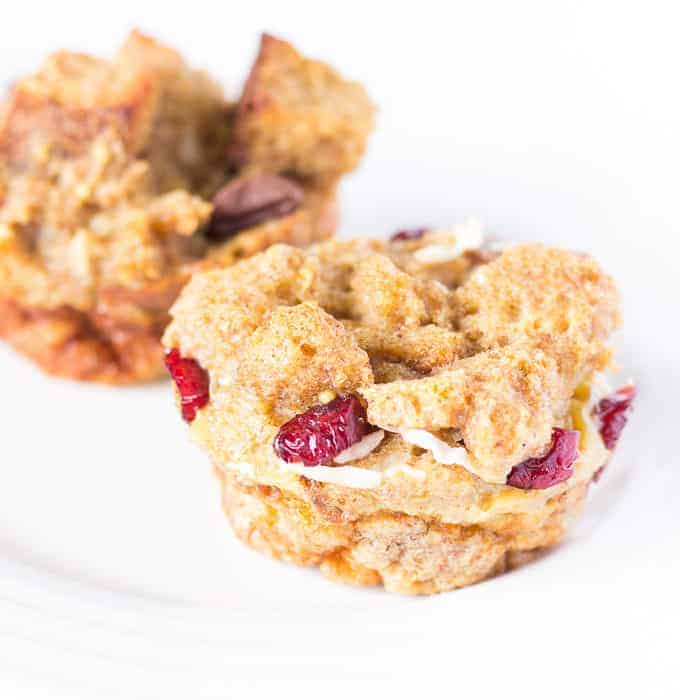 French Toast Cups with Your Favorite Toppings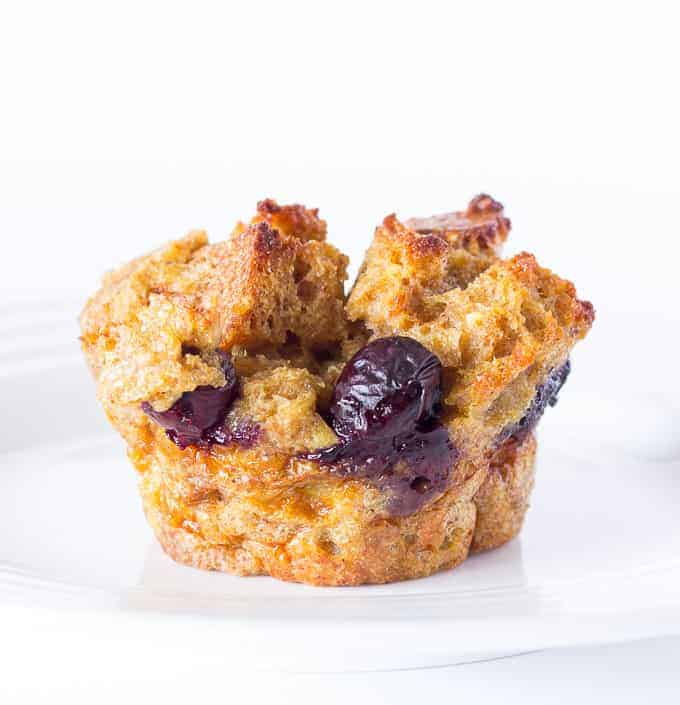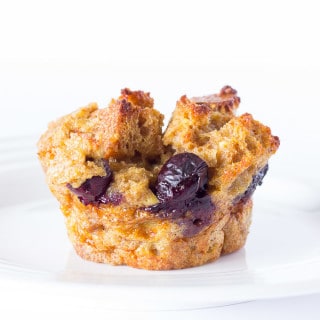 Ingredients
1

cup 2% milk (or your preferred milk/milk substitute)

6

large eggs

1/3

cup maple syrup

1/4

cup brown sugar, packed

2

tsp. ground cinnamon

2

tsp. vanilla extract

1/4

tsp. salt

12

oz. bread*

Optional toppings like fruit, nuts, chocolate chips, etc.
Instructions
Preheat oven to 350 degrees F. Spray a muffin tin with cooking spray.
In a large bowl, add the milk, eggs, maple syrup, brown sugar, cinnamon, vanilla, and salt. Whisk until well combined.
Cut the bread into small, half inch cubes.
Add the bread to the egg mixture. Stir to completely coat the bread.
Let the bread rest in the eggs for 10 minutes. Stir twice during the resting process.
Spoon ¾ of the bread mixture into the muffin tin (scoop from the bottom of the bowl to ensure any unabsorbed egg mixture is evenly distributed in the muffin tin). Press the bread mixture down into the muffin tin.
Add 1 tablespoon of your optional toppings to each muffin cup. Spoon the remaining bread mixture into the muffin tin.
Bake for 25 minutes, until the edges turn golden brown.
Cool for 10 minutes. Remove the french toast cups from the muffin tin.
Store in a sealed container in the refrigerator.
Nutrition Facts
Serving Size
1 muffin
Amount Per Serving
As Served
Calories

157

Calories from fat
% Daily Value
Total Fat

3.4

5%
Saturated Fat

0.8

4%
Carbohydrate

24.9

8%
Dietary Fiber

1.3

5%
Protein

6.7
Percent Daily Values are based on a 2,000 calorie diet. Your daily values may be higher or lower depending on your calorie needs:
Calories
2000
Total Fat
Less than
65g
Sat Fat
Less than
25g
Cholesterol
Less than
300mg
Sodium
Less than
2,400mg
Total Carbohydrate
300g
Dietary Fiber
25g