This homemade healthy granola recipe is simple to make and produces large chunks (clusters).  You can add any of your favorite granola flavors to this basic recipe.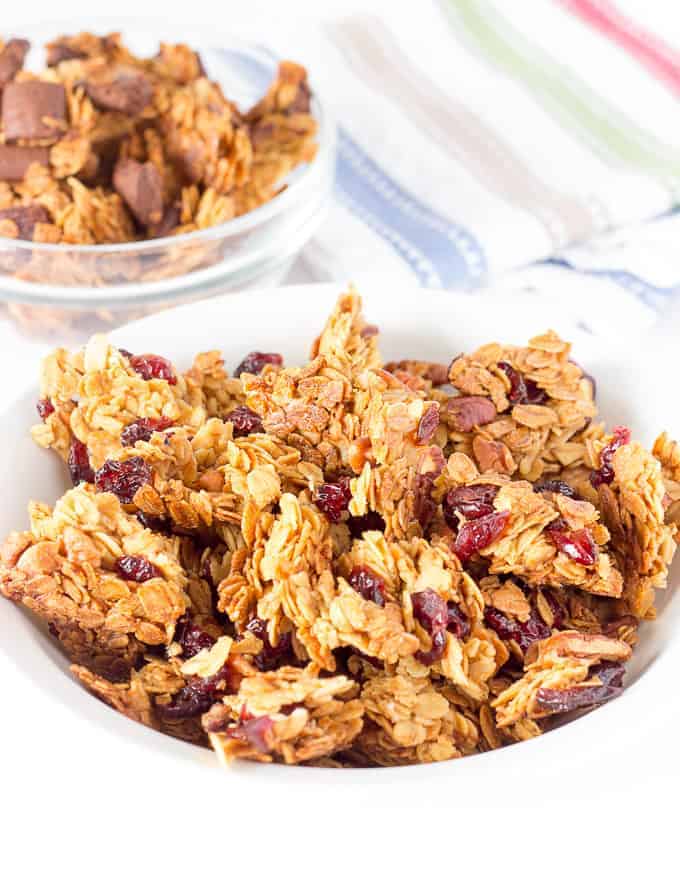 If you follow my blog at all, then you probably know I'm a huge fan of oats.  I've got quite a few oat recipes on this site and I'm sure I'll be adding many more.  One of my favorite oat containing recipes is granola.  At least 3 times a week I'll have a bowl of yogurt topped with fresh berries, nuts, and granola.  I love it for breakfast or a post work out snack.  I used to just buy my granola.  I've found that there can be a huge difference in the kind of granola you buy.  Some granola contains large chunks that stick together even when you add them to milk or yogurt.  Other kinds have very small granola chunks, if any at all.  I don't really care for that.  Large chunks of granola for me, please!
When I came across an episode of America's Test Kitchen a few months ago explaining how to make large chunk granola at home, I knew I had to try it.  I tweaked the recipe to fit my taste.  And, I've been hooked ever since.
So, what's the benefit of making your own granola?  Well, for one, it's a HUGE cost savings.  A teeny tiny bag of store bought granola is often around $5.  This recipe produces about 10 cups of granola for around the same price.  Also, you can customize it to make the exact flavors that you want.  This is a basic large chunk granola recipe.  It instructs you to add whatever flavors you want, like dried fruit, chopped nuts, chocolate chunks, shredded coconut, etc.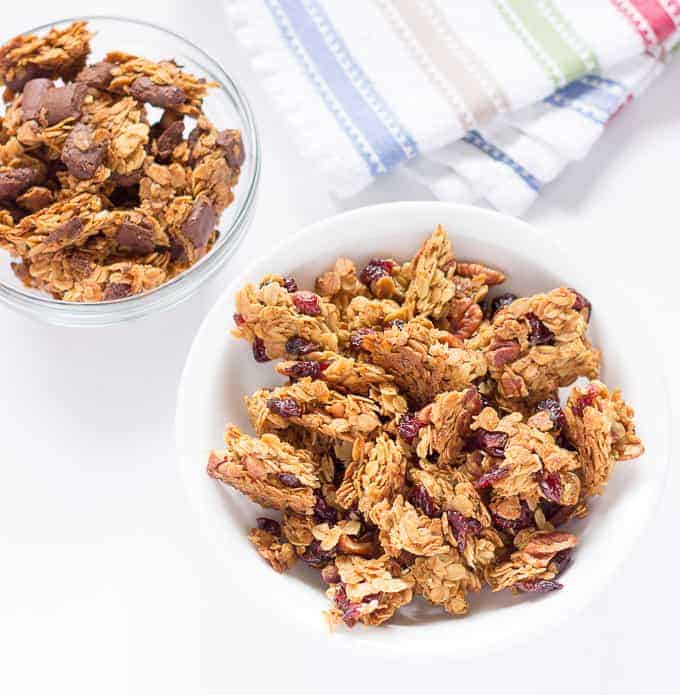 I actually made two different granola flavors today.  I made one with dried cranberries and chopped pecans, and another with chocolate chunks and shredded coconut.  If you would like to make two different granola flavors out of one recipe, split the sweetened oats into two bowls before adding the granola flavors.  Add half the amount of flavorings called for in the recipe to each bowl (1 ½ cups instead of 3).  Then pour both bowls of oats out onto the same baking sheet, side by side, and press down as usual.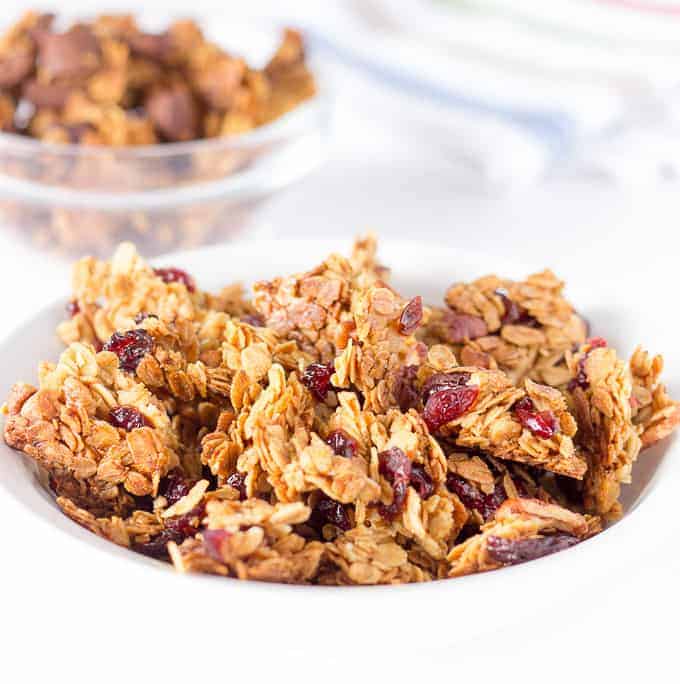 Find more of my recipes on TikTok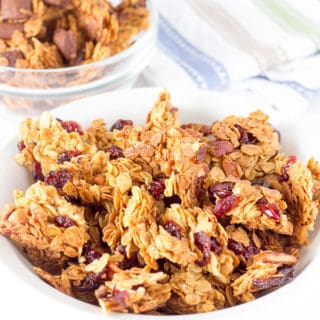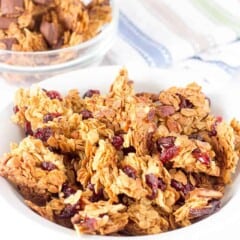 Basic Large Chunk Granola Recipe
This homemade healthy granola recipe is simple to make and produces large chunks (clusters). You can add any of your favorite granola flavors to this basic recipe.
Ingredients
1/2

cup

vegetable oil

or your preferred cooking oil

1/2

cup

honey

1/3

cup

light brown sugar

1

tbsp.

vanilla extract

1/2

tsp.

salt

5

cups

Old Fashioned rolled oats

3

cups

total of your favorite granola flavors (chopped nuts, dried fruit, shredded coconut, chocolate chunks, etc.)
Instructions
Preheat oven to 325 degrees F. Line a (11x17 inch) baking sheet with parchment paper.

Add the oil, honey, brown sugar, vanilla, and salt to a large bowl. Whisk until sugar is dissolved and oil is well incorporated.

Add the oats and your chosen granola flavors. Stir well.

Pour the oat mixture onto the baking sheet and spread it out into an even layer. Firmly pack the oat mixture into the baking sheet.

Bake for 30 minutes, rotating the pan half way through cooking.

Let the granola cool at room temperature for one hour.

Use a small spoon to scoop up the granola off of the baking sheet. Use the spoon and your hands to break the granola into large chunks.

Store at room temperature in a sealed container or zip top bag.
Notes
Nutrition information does not include your added granola flavors.
Nutrition
Serving:
1
/2 cup
|
Calories:
166
kcal
|
Carbohydrates:
24.4
g
|
Protein:
2.5
g
|
Fat:
7.1
g
|
Saturated Fat:
1.1
g
|
Fiber:
2
g
Recipe adapted from Almond Granola with Dried Fruit from America's Test Kitchen.