Hoisin Shrimp Lettuce Wraps are full of shrimp and a sweet and tangy Asian inspired sauce.  They're light and tasty with great crunchy texture.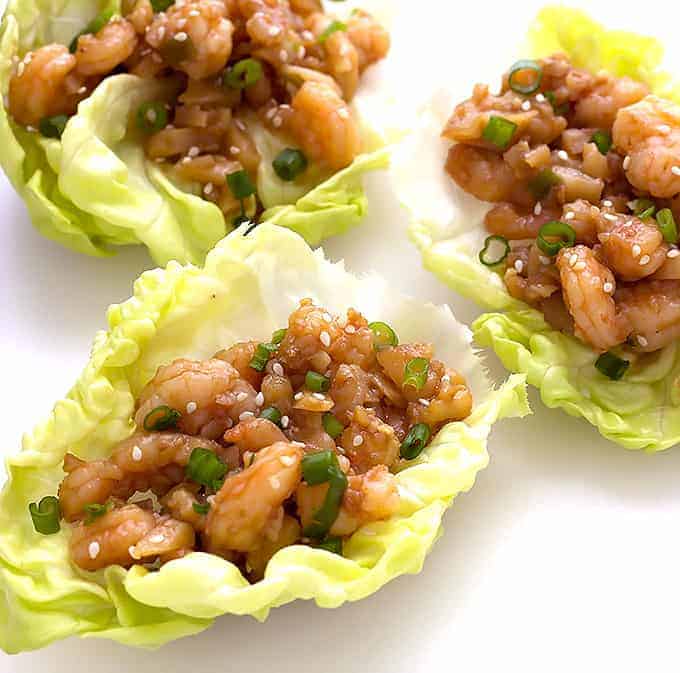 These Hoisin Shrimp Lettuce Wraps are so quick and easy to make.  Shrimp is always a quick cooking ingredient.  But, in this case the shrimp is chopped.  So it literally takes just a couple of minutes to cook up.
The chopped shrimp are mixed with chopped water chestnuts and sliced green onions and coated in a sweet and tangy Asian inspired sauce.  Then, this flavorful shrimp gets spooned into lettuce leaves for serving.
Hoisin Shrimp Lettuce Wraps recipe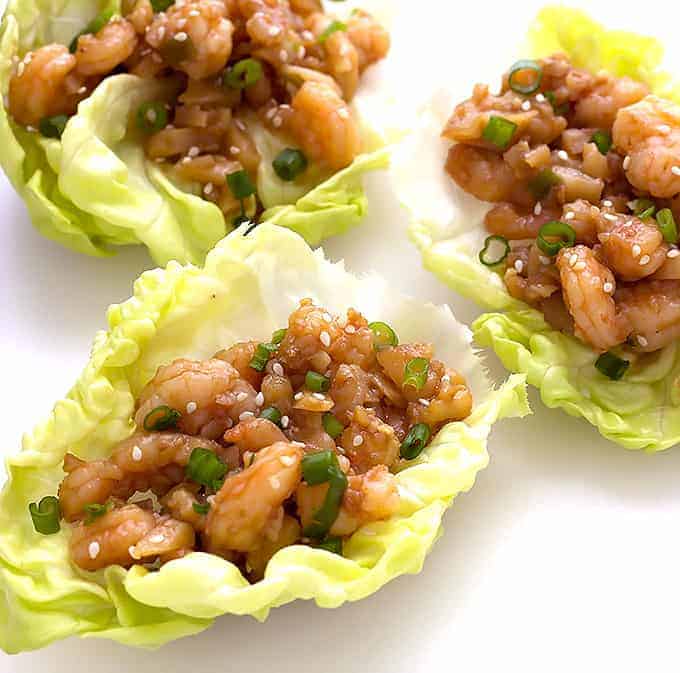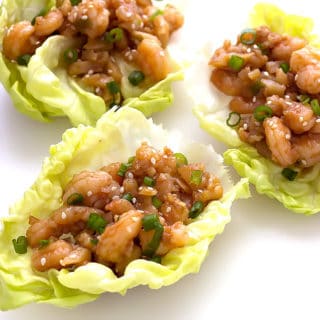 Ingredients
1/4

cup hoisin sauce

1

tbsp. soy sauce

1

tbsp rice wine vinegar

1

tbsp. honey

2

garlic cloves, minced

1

(8 oz.) can sliced water chestnuts

4

green onions

1

pound raw, peeled, deveined shrimp (any size/count will work)

1

tbsp. olive oil

1

head butter lettuce, leaves separated

Optional: sliced green onion and sesame seeds for serving
Instructions
In a small bowl, add the hoisin sauce, soy sauce, vinegar, honey, and garlic. Whisk until well combined.
Drain and coarsely chop the water chestnuts. Slice the green onion. Add the water chestnuts and onion to the sauce. Stir to combine. Set aside.
Coarsely chop the shrimp into ½ to ¾ inch chunks.
Heat the oil in a 12-inch nonstick skillet over medium-high heat for 2 minutes. Add the shrimp in an even layer. Cook 2 minutes, stirring often.
Add the sauce to the skillet. Stir well. Cook for 3 minutes, stirring often.
Remove the skillet from the heat. Let the shrimp rest in the sauce for 2 minutes.
Serve by spooning 2-3 tablespoons of the shrimp mixture into the center of a lettuce leaf. Optional: Sprinkle with sesame seeds and green onion.