These 2 Ingredient Nutella Brownie Bites are the perfect chewy brownie consistency.  And, they can be made in the time it takes to preheat the oven.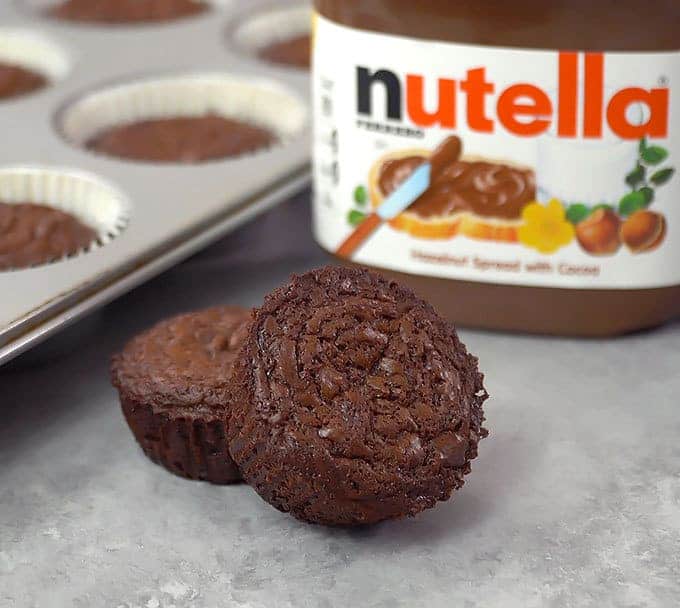 Nutella and eggs, that's all you need to make these Nutella Brownies!  Crazy, right? 🙂
This recipe was a happy accident.  I was playing around with trying to put Nutella in a cookie recipe and kept ending up with something that tasted more like a brownie.  So, I thought hey, roll with it!  I had to test the recipe 4 times to get the consistency and cooking time just right.  But, trust me, no one in my house was complaining.  These things go quick!
These chocolate and hazelnut flavored brownie bites have the perfect chewy brownie consistency.  Since they're made in a muffin tin, every bite is like getting a corner piece of a pan of traditional brownies.  So good!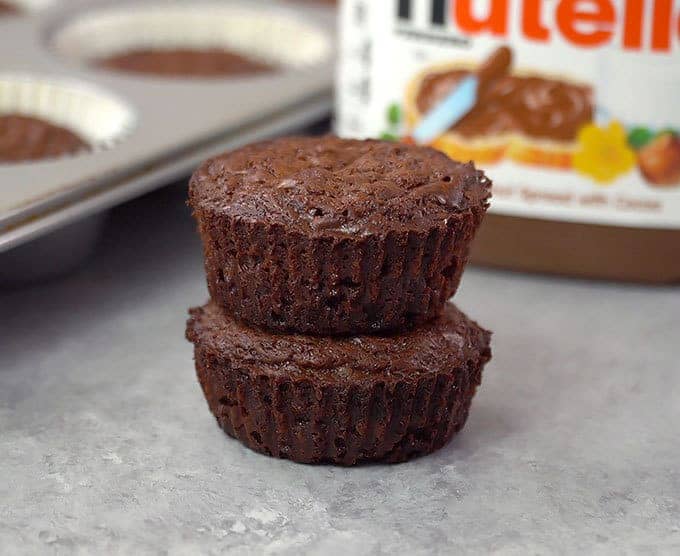 Here are a few things to keep in mind when making these Nutella brownies.
First, the batter is very thick and can be hard to stir.  I always just muscle up and whisk it at room temperature.  I use a butter knife to scrape out the inside of the whisk to make sure that all of the Nutella gets evenly mixed with the eggs.  You could slightly warm up the Nutella by putting it in a microwave safe container and microwaving it for about 15 seconds at a time until it becomes easier to stir.  But, please be careful doing this!  You don't want the Nutella to become too warm.  If it's too warm, the eggs will cook when you add them to the Nutella and you'll end up with scrambled eggs.  NOBODY wants that! 🙂
The second tip is that the brownies need to cool completely.  This is the hard part.  But, letting them cool is key.  If you try to eat them while they're warm, they are likely to stick to the muffin liners and they'll taste a little more cake-like.  Once cooled, they peel away from the muffin liners a lot easier and they have that great chewy consistency. Yum!
2 Ingredient Nutella Brownies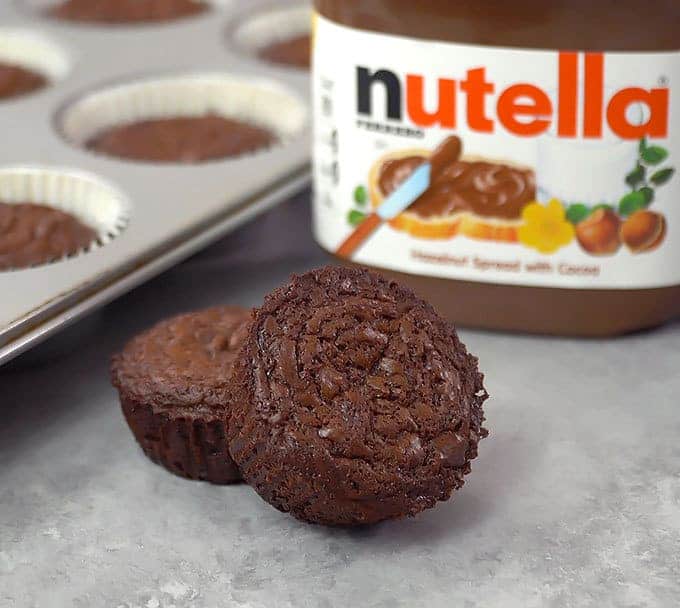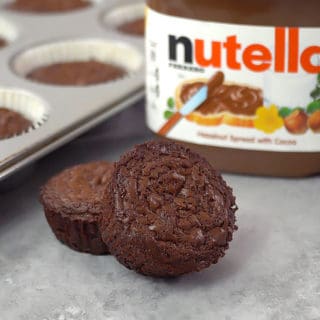 Ingredients
2

large eggs

1 1/2

cups Nutella (chocolate hazelnut spread)
Instructions
Preheat the oven 350°F. Line a standard size muffin tin with muffin liners. Generously spray the liners with cooking spray.
Add the eggs to a large bowl. Whisk until well scrambled. Add the Nutella to the bowl with the eggs. Whisk until well combined.*
Divide the batter between the 12 muffin cups (cups will be less than half full).
Bake for 22-24 minutes. Cool completely before serving.**
Recipe Notes
*Batter is thick and hard to mix. I use a butter knife to occasionally clean the nutella out of the center of my whisk to ensure that all the nutella gets evenly mixed with the eggs.
You could make the nutella easier to mix by warming it. Place the nutella in a microwave safe bowl and heat for 15 seconds at a time until the nutella is soft and easy to stir. However, don't let it get too warm or it will cook the eggs when they are added.
**If these brownies are warm, they are harder to get out of the muffin liners and have a more cake-like consistency instead of being chewy.
Love Nutella?  Try my Nutella Fudgesicles recipe.
This recipe was inspired by this Three Ingredient Peanut Butter Cookies recipe.